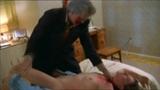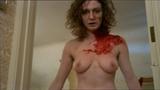 Download:
http://rapidshare.com/files/254606296/Susan-Marie-Spier-in-FleshEater-05.avi
(2:04 minutes, 768x432, 14.5MB)
The most interesting thing about
FleshEater (1988)
is that it was written, directed by, and stars Bill Hinzman, that fantastic cemetery zombie from
Night of the Living Dead
. Fittingly, it comes across as a bold experiment in how a film might turn out if the entire creative team were clinically dead.
Never mind, it gives a good demonstration of the life cycle of a traditional zombie, and a nudie female one at that! It is Halloween. Susan (Susan Marie Spier) is the au pair (or something) of a happy middle-class American family. She has just had a full-frontal shower scene that was too long, pointless and boring to cap. It might as well have been an educational short sponsored (and rejected) by the Shower Marketing Board -
How a shower can get you clean in the privacy of your own home without anything intriguingly untoward happening whatsoever!
Anyway, here we see Phase One in the zombie life cycle:- zombie birth, getting bitten and killed by a marauding zombie (and in the case of the zombie being played by the director, having ones towel ripped off displaying ones pubes).
Phase Two, zombie maturity, is jumping out at, killing, and eating innocent people oneself. In this case the victim is Dad, home from a hard day at work and looking forward to seeing how the family Halloween party is getting along.
Phase Three, zombie death, is getting shot through the head by a member of a vigilante posse. It is not necessary to perform even a bare minimum of checks before shooting a suspected zombie, which is something that always worries me. It is Halloween after all, what if she'd just been larking around?