Hello all!
I have a special request and share by the same way...
In the following there is two downloading links for a similar clip of shannon Whirry (having sex in Animal instincts 1).
It's similar but not the same as you can realise if you download the two of them.
In the first one, the sound has been reworked as there is no more music covering their moans.
The second one however is longer (she licks his finger for example) but in that one there is the annoying music.
My request would be to know what could be the process to "erase" that music like in the first clip so we could have it for the sceond. I suppose it's working on some filters but some kind of help (which program, what level of filter, etc...) would be needed.
Also if you possess already the longer clip without the music, you can share it!
here is a preview: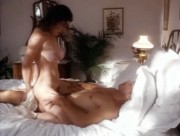 and the links:
1
http://www.partage-facile.com/QB62Y2QLFF/shannon_whirry_03.avi.html
2
http://www.partage-facile.com/3WKLXF2MF9/shannon_whirry_45.avi.html
[/b]