Please post clips of nudity in magical, tribal, or Satanic ceremonies and rituals. Sacrificial-virgin-stripping scenes are especially welcome, as are the older housewife-reluctantly-disrobing-in-front-of-the-altar type of scenes.
[this used to be the
Exorcismo
thread]
Ever had one of those embarassing moments when you're watching a film so boring that you reach to fast-forward only to realise you've gnawed off your own arm in tedium and frustration? I haven't, and as part of a plan to make sure I never do I promised myself I wouldn't try to sit through
Exorcismo (1975)
ever again.
Back in the early Seventies there occurred an outbreak of demonic possession so virulent and widespread that at its peak it seemed every street in the world had its own scab-ridden, vomiting, and head-twisting girl living in it. Not surprisingly, people began to make films about the phenomenon. But none was so dull as
Exorcismo
. Hardly anything happens! And the cast is full of wankers and twats!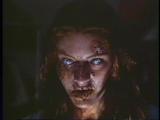 Recently I began to think I'd been a little unfair on it, the reason being I happened to stumble upon that photo on the left there again. Grace Mills (who apparently only made one other film) in the role of Leila could hardly be more beautiful and enchanting. The family chauffeur certainly thinks so - that's why he went to so much trouble and expense setting up a hidden camera to snap her in the nude (but strangely enough was too cheapskate to use colour film). And her make-up effects (which you have to wait almost till the end to see) are truly first-rate. Time for an
Exorcismo
reappraisal maybe? Hmmm... Nah... but I did take a couple of clips.
YouTube:
Grace Mills catfight in Exorcismo
(1:06 minutes, 320x240)
First up is a scene tame enough to risk putting on YouTube without getting my legs slapped again. Honestly, that girl! Leila's Mother must be so ashamed. Upsetting a tea-tray, what a pathetically inadequate display of Satanic malevolence! To think, only the other day that Winter girl down the road (Madeleina or something?) was not only running around with her bottom showing but kicking down locked doors with her bare feet as well!
Download:
http://rapidshare.com/files/137177587/Grace-Mills-in-Exorcismo-2.avi.html
(1:46 minutes, 640x480, 18.7MB)
We've waited nearly an hour for the action to hot up, and now it does so with the naked Satanic orgy scene. It's still not terrifically exciting but there's some nude babes dancing around, and that very fanciable priestess reminds me of Tania Busselier. We do see Grace's bush (which seems to have real leaves growing out of it - how does that happen?!) as she's lying on the altar but I preferred to use that topless shot of her looking all
eeeevil
.
NB. I hacked about a minute of clothed dullness out to avoid anyone's eyes glazing over so there's a few jump-cuts. And sorry about the interlacing artefacts.