Any movie names or clips of actresses that are tied, held hostage, shown
on a sacrifical alter, or forced to fight wearing a cupless metal bikini,
regular bikini, late, or
any clothing that exposes their breasts or nipples as form of forced
humiliation or even willfully in an erotic show while performing.
Some examples below of what I'm talking about.
"Isabel Brook caged in a scene wearing a metal-bikini with nipples visible in Fuast: Love of the Damned"
Gina Gershen and Elizabeth Berkley in a very erotic S&M performance in "Showgirls"
Sindee Coxx and Brittany Andrews in "Virtual Encounters"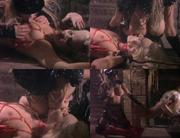 Adrienne Corri getting holes cut out of her suit in "A Clockwork Orange"
I sure hope this list grows because this is my kind of thing.