Back in the summer of 2008 a paparazzi photographer took some photos of supermodel Elsa Benitez while she was sunbathing nude. Elsa was not happy about the intimately revealing photos (open to full size and you'll see what I mean) and she tried to sue.
You can read about it here:
http://blogs.miaminewtimes.com/riptide/ ... akes_p.php
to quote the article, "Elsa Benitez, who lives here and was the subject of some unflattering, unauthorized nude portraiture last month." I disagree with that statement. I don't see anything that looks unattractive to me!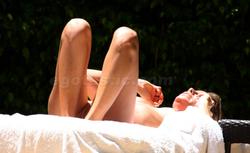 Shana Hiatt, World Poker Tour Hottie and TV personality.