Diane Lane - Unfaithful (3 Scene)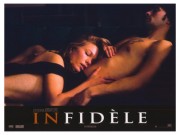 Unfaithful is a 2002 American drama film directed by Adrian Lyne, and adapted by Alvin Sargent and William Broyles Jr. from the French film La Femme Infidèle Chabrol. It is about Constance (Diane Lane) and Edward (Richard Gere), a couple living in the New York City suburbs whose marriage goes dangerously awry when she indulges in an adulterous fling with Paul (Olivier Martinez), a mysterious book dealer.
The filming proved to be challenging for the actors who had to endure smoke being piped in during scenes for 18 to 20 hours a day. During the films demanding sex scenes, Lyne would film repeated takes often using up a magazine of film at a time. While Diane Lane had no problem with being nude for these scenes, Olivier Martinez was not comfortable with being naked on-camera. The two actors had not met each other before filming and did not get to know each during, mirroring the relationship between their characters.
Based on his experiences with Fatal Attraction, Lyne shot five different endings. The studio did not like his original ending which did not pass moral judgment on the characters; they imposed their own ending, which angered Richard Gere who fought for Lynes version.
Here is cheating scene starring Diane Lane and Oliver Martinez
Preview:
DOWNLOAD:
Diane.Lane.Unfaithful.HD.avi
(hot boobs of diane lane, diane, lane, hot, scene, unfaithful)
File size: 72 mb
Resolution: 1920x1020
Duration: 01:48
No Password ; )