Carré Otis - Wild Orchid HD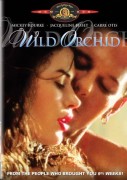 There is 2 hot scene.. one of the scene is very long and hot love scene at the final of the film with Mickey RoukeIt is recorded with a camera overhead, and they are making it on the floor... Must see... She is a very attractive, which is good because she does get naked often in the film....
About Carré Otis..
Carre began modelling in her teens. She first broke into the US public scene in 1988 as a model for Guess jeans. She has appeared in Pictorials in Playboy (June, 1990), Vogue, Allure, Elle, Harpers Bazaar, and several other publications in many countries.
Carre has appeared in at least three movies, including Wild Orchid (1990), Exit in Red (1996), and Simon Says (1998).
Carre married actor Mickey Rourke of 9 1/2 Weeks fame while both were shooting Wild Orchid. The two became romantically involved, and married in 1992. During the marriage Rourke was actually booked for assaulting Carre, but she refused to press charges and he was released. Still, the marriage fell apart and the two divorced in 1994. (thanks cdnb)
Preview:
DOWNLOAD:
720p_Carr?_Otis_Wild_Orchid_HD.avi
File size: 201 mb
Resolution: 1440x1032
Duration: 04:36
Dont forget to leave a comment if you like my work... : ))