Déborah François "Mes chères études" ALL HOT SCENES!!! Film Also know as "Student Services"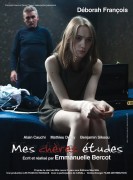 Gorgeous Deborah Francois fully nude in Mes cheres etudes
Plot Summary:
Laura is a 19-year-old university freshman who desperately wants to do well in school. She works a part-time job but cannot make ends meet. One evening in which she is short of funds, she answers a personal ad online by "Joe," 57, who seeks a female student for "tender moments." The pay is 100 euros per hour. Laura pledges to do this just once, and three days later, she goes to a hotel room with Joe. And then her spiral begins.
Preview:
[b][color=#0000FF]DOWNLOAD from ORON:
[/color] [/b]
Deborah_Francois_Mes_chиres_йtudes_HD.part1.rar (250.0 Mb)
Deborah_Francois_Mes_chиres_йtudes_HD.part2.rar (250.0 Mb)
Deborah_Francois_Mes_chиres_йtudes_HD.part3.rar (138.2 Mb)
(blindfolded, forced ,Puffy, Nipple, Slip, hairy, fuck,Student, Studentin, 19, sucht, Studentki, Services)
File size: 639 mb
Resolution: 1280x720
Duration: 13:49
Dont forget to leave a comment if you like my work... : ))