I really don't know how to help, sorry. The only thing I know about a Mac is 'two all beef patties, special sauce, lettuce, cheese, pickles, onions, on a sesame seed bun'. I hope you succeed in converting the file and getting it to work for you cause let me tell you...it's a really great scene.
In the mean time, here are two clips from the group shower and locker room scene in the WIP flick
Hellhole
featuring
Edy Williams
. She is topless, but several other fully nude women in this scene.
Hellhole part 1 RS Link 4MB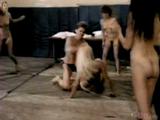 Hellhole part 2 RS Link 4MB