Please post clips where women are punished by formal or semi-formal hand spankings, canings, whippings, floggings etc. etc. Not necessarily ugly misogynistic violence, playful spankings will do as well, and nudity is not an absolute must. But the scene has got to at least seem painful and/or embarrassing to the victim.
These first two clips are from Bruno Mattei's
Women's Camp 119 (1977)
. The much-maligned Italian set out to make a standard Nazisploitation sleazefest with Lorraine De Selle and Sonia Viviani as principal babes and a derelict slaughterhouse standing in for Experimentation Camp Rosenhaus. The resulting mix of jet-black humour and soul-crushing nihilism is a work of art.
Here's Commander Wieker's latest batch of "fresh material", with Lorraine De Selle in the centre. Now meet the team responsible for discipline in the camp: Oberleutnant Ohlendorff (Gabriele Carrara) with two kapos to his left, and Marta (Ria De Simone) the chief kapo on the right. Sonia Viviani can be seen in the background. And mustn't forget Kurt! This drooling retard is encouraged to punish the women by groping their breasts and slobbering all over them.
Download:
http://rs22.rapidshare.com/files/132675597/Womens-Camp-119-1.avi
(1:38 minutes, 640x480, 17.3MB)
The latest intake are set an example by being forced to watch three naked women being flogged by the kapos. Notice how well the music sets the mood.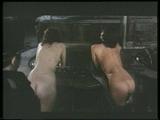 Download:
http://rapidshare.com/files/132757570/Womens-Camp-119-2.avi.html
(1:01 minutes, 640x480, 10.7MB)
These two women have been caught catfighting while on duty in the laundry room. The sadistically deranged Ohlendorff strips and whips them with the gleeful aid of Kurt.